ABL Smoothside Dump Blocks
Better Engineering & Design
Every ABL SmoothsideTM Dump Block is engineered and built to fit the customer's specific application and attachment points. ABL SmoothsideTM Dump Blocks have a sealed bearing center with the added benefit of a second set of bearings mounted in the side plates to serve as a back-up if a bearing seizes. Bearings are sealed at the factory to eliminate daily lubrication and are furnished with the integral rope guides to smoothly direct the rope into the fabricated sheave. ABL's fabricated sheaves contain forged rings. The domed side plates are vastly superior and improve the strength and rigidity of the dump block and help deflect impacts which add to the rebuild costs of conventional style side plates. In addition, ABL SmoothsideTM Dump Blocks typically weigh the same or less than competitor's traditional dump blocks.
Better Performance
The separate sheave and housing bearings keep the sheave turning even if one bearing fails. ABL SmoothsideTM Dump Blocks are guaranteed to turn (guarantee excludes pin bushings) for one year of operation without lubrication. If there is a failure, the dump block is repaired at no charge and the guarantee begins again, no prorating. Then, as long as all rebuilds are performed by ABL, the one-year guarantee will be renewed, like new. And typically rebuilds are less expensive on ABL SmoothsideTM Dump Blocks as well because the simple design is easy to rebuild, less frequently.
More Production
The Smoothside unit can stay in operation, without maintenance, up to 300% longer than competitive models. Additional production improvements include: greater dump height, more controlled movement, increased payload, faster cycle times, and longer dump rope life.
Unsurpassed Warranty
ABL SmoothsideTM Dump Blocks are warranted against defects in material and workmanship, bearing failure (sheave lock-up) and lubrication for a period of twelve (12) months from the verified installation date. ABL SmoothsideTM Dump Blocks are guaranteed to turn (guarantee excludes pin bushings) for one year of operation without lubrication.
It is ABL's policy to service what we sell. We also go so far as to state when an authorized ABL Service Center does the rebuild on a ABL dump block, it goes back to you with a new warranty every time*. Subsequently, dump blocks sent to an unauthorized Service Center voids all warranties since we can't guarantee anyone else's workmanship. *Until the components have reached the fatigue life of the parent metals.
The ABL Services, Inc. warranty does not cover abuse, neglect, or exceeding the design load capabilities of the rigging components.
All warranted items must be returned "freight prepaid" to ABL Services, Inc. No items may be returned to ABL without prior approval by the sales department.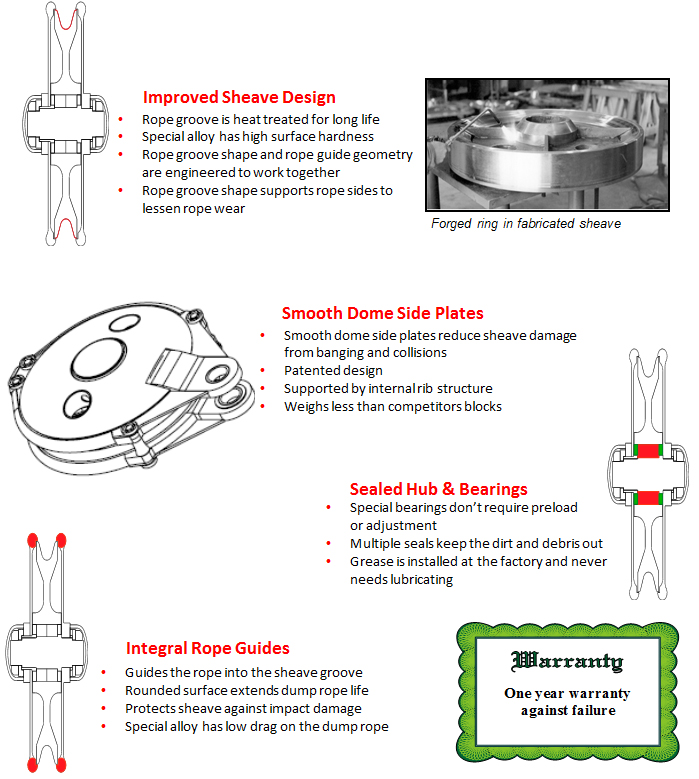 "Free Style" Convention Dump Blocks

"Performer™" Rigid Dump Blocks