Wear Resistant Ceramic
G 2T – WEAR RESISTANT ALUMINA CERAMIC
G 2T is an alumina ceramic high technology refractory, with a high abrasion and temperature resistance. G 2T is shipped unbonded in a 55lb bag. When blended with water G 2T becomes an excellent wear material for environments where weak acids and alkalis are present. It can be cast, hand packed or troweled in place. G 2T has a long working time for an easy installation. With an operating temperature range of up to 2300°F and exception abrasion resistance G 2T is an ideal material for use in cyclones, transfer lines catalysts, reactors and regenerators, refineries, transfer lines of coal and coke, wear plates, fans lining, etc.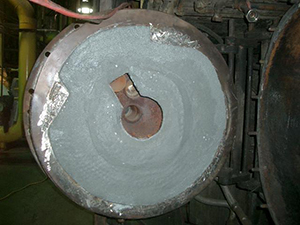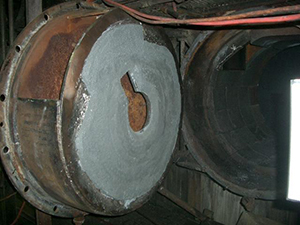 Application
G 2T is packaged as an unbonded powder in 55lb bags. When mixed with water G 2T yields a mortar like product. The typical pallet quantity is 40 bags per pallet. Mixed G 2T can be applied by trowelling, hand packing, casting, or spraying. Steel fibers can be added to increase the structural strength of the cured product. Wire mesh is required to reinforce G 2T for most applications. The mesh serves to hold the uncured G 2T in place during application. Tools and mixing equipment can be cleaned with warm water.
Advantages
Suited for high temp wear resistant applications
Dense ceramic with low porosity
Excellent consistency for troweling vertically & overhead
Eliminates epoxy fumes and reduces welding required
Monolithic finish eliminates tile cutting and joints
Can be precast to eliminate air cure
Easy To mix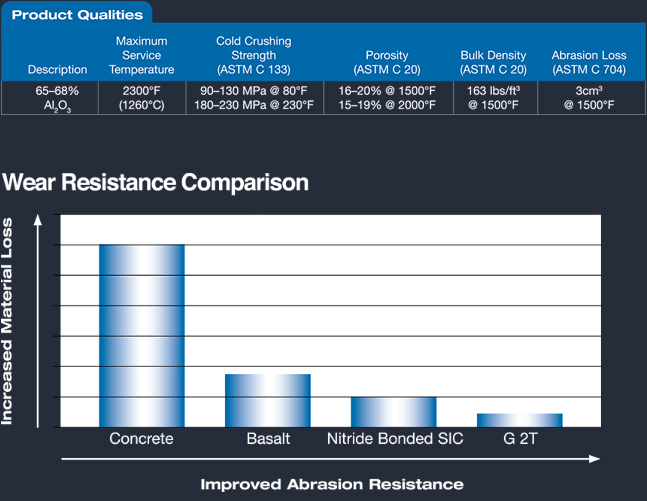 G 2T Suggested Applications
INDUSTRY
Aluminum
Cement
Iron & Steel
Power Generation
Waste Incineration
Mining
Kiln Curing
Refining
Rock Products
Chemical
Die-Casting
Incineration
Zinc Production / Casting
Boiler Manufacturing
Precast Manufacturing
Mineral Processing
O.E.M. Furnace Builders
WEAR LINING APPLICATIONS
Transition Sections
Elbows
Wear Backs
Ductwork
Chutes
Vibration Feed Systems
Containent Panels
Scrubbers
High Wear Inlet Corners
Waste Cyclones
Dust Collection Systems
Feed Chutes
Kilns
---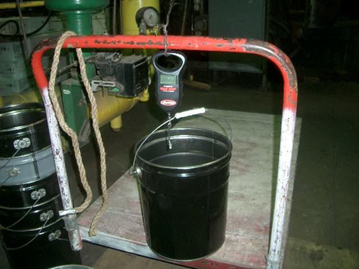 G 2T Mixing Instructions
Preparation of G 2T requires a suitable mixer with a defined quantity of water. Mixing ratio of powder to water is critical.
A paddle mixer or Hobbart Mixer is recommended for proper distribution of materials. In the event a small batch is being applied, a high power drill (minimum 1 h.p.) with a jiffler can be used.
The mixer should be dry, clean, and free from any dust, oil or contaminants.
Pour the material into the mixer, and dry blend for 1 minute.
Add the water recommended on the bag and adjust as needed. It is recommended, if needed to add in portions of 0.5%, and wait around 1 minute before adding more water.
Mix for 8 to 10 minutes, after you add the necessary water.
Once the mixture is ready, the consistency should be like a smooth "peanut butter" in order to be applied on the mesh. If a ball of the material is held in the hand, it should have very little "slump".
The material may be applied on hexmesh grid, or standard mesh for extra support. It must be free from grease or any other contaminants.
The mix should be well packed during the applications, and assure the material fills all the mesh so that there are no voids in the material.
Once finished installing, the material should be cured for a period from 12 to 48 hours (at 70°F) before the material is put into service. In colder temperatures, external heating may be required.