Power Cable Repair

ABL Services Inc. has been selling and repairing dragline, pump and shovel trail cable for over 35 years. When repairing cables ABL uses staggered welded joint splices with a vulcanized jacket. This method assures that the repair will be as dependable or better than new. ABL has sufficient experience with the unique spicing process that we offer a 1 year unconditional warranty on all repairs.
ABL offers molded lead cable terminations and jumper lead terminations on all types of new or repaired cables. These molded lead or jumper terminations are supplied with brass or copper pins for clamp style connections. ABL also sells, services and supplies Adalet, TJB, and other name brand couplers. ABL can also mold in the repair date and serialize the repaired cables to facilitate tracking. On request ABL will measure and mark the cable length on each termination after repairs.
All ABL repairs and products are 100% tested for quality prior to shipment. ABL also stocks and sells many of the repair supplies, clamps and other parts related to trail cable for sale to mines repairing cable themselves. Contact your sales representative with your requirements and ABL will deliver a quality product, in a fast turnaround time at a competitive price.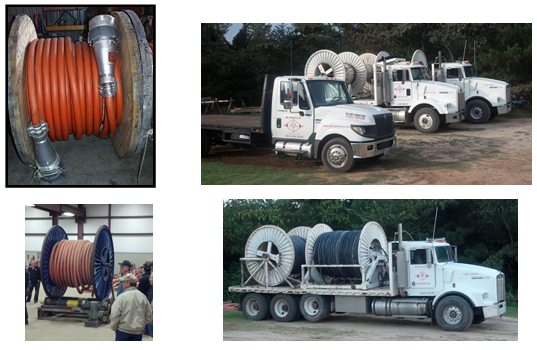 On-site Power Cable Repair
ABL offers on-site power cable repair with a complete, self-contained cable repair trailer equipped with the proper tools & personnel to perform on-site power cable repairs, splices, and terminations. Contact ABL to learn more about our on-site cable repair services and to schedule repair services at your location.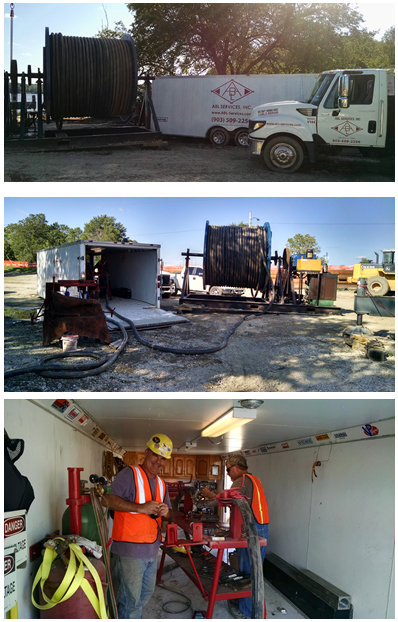 ABL performs extensive inspections and testing on the cable before and after repairs. The cable is inspected as it comes off the truck and is laid out on the shop floor for both visual and electronic testing. ABL Hypot tests the power cable to determine if a problem exists. ABL uses a custom designed "thumper" to locate the trouble areas. ABL repairs & splices the faulty cable with its own, proprietary welding process that ensures a strong, flexible connection. No crimps or butt-welds are used. Once the repair work is complete, the splice area is vulcanized and ground smooth to ensure a sleek, smooth transition. Each phase is then proof tested at double its rated voltage for a period of a minimum of 15 minutes. Ground checks are tested with a Crown tester. Repairs and terminations are embossed with a serial number identifier. Branding patches & kellems are installed as requested by the customer.
ABL Vulcanized Repair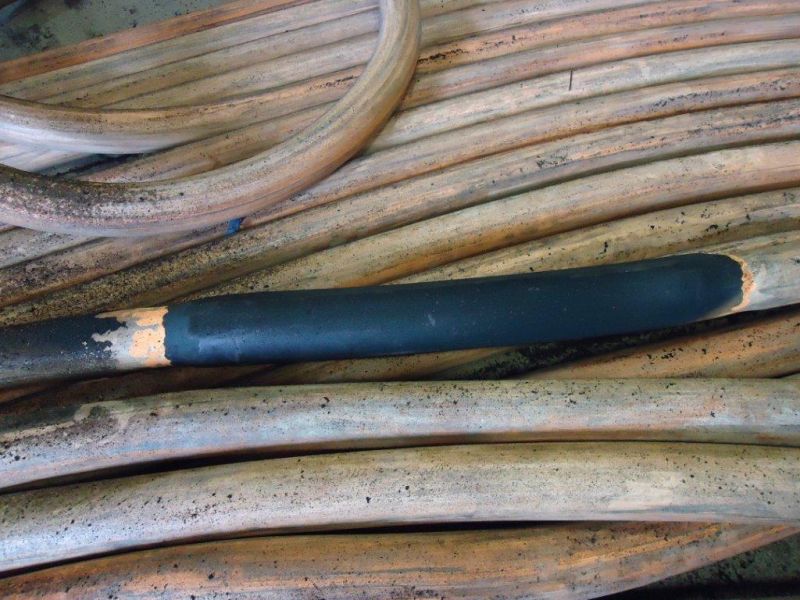 - ABL vulcanized repairs are permanent repairs
- The ABL vulcanized process results in a permanent bond with the existing jacket material
- The ABL repair remains flexible and resists cracking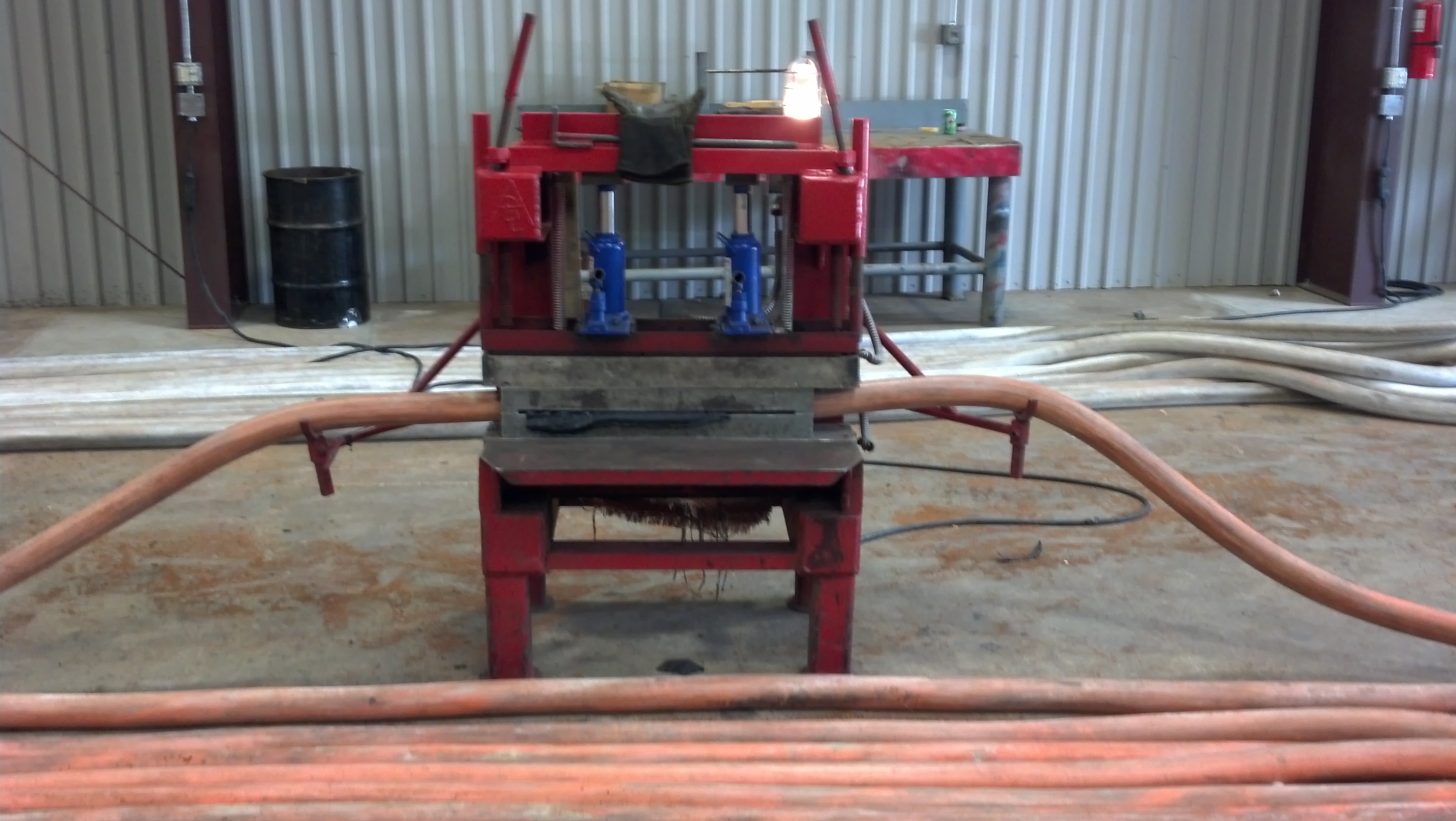 ABL Cable Repair Processes
Patch - Cover the existing outer jacket with cut which extends to the cord in jacket
Re-jacket - Replace damaged outer jacket
Re-Insulate - Re-insulate one conductor other conductors are intact and will be marked by a colored band
Re-Insulate - Re-insulate two conductors other conductors are intact and will be marked by 2 colored band
Splice - Cut out and splice all conductors, ground conductors, and pilot
Jumper Termination - Install high voltage jumper cable, pins and build up pot-heads
Molded Lead Terminations - Stress relief cable conductors, pin and build pot-heads, molded into each repair is identification with Job number, date, and technician performing repair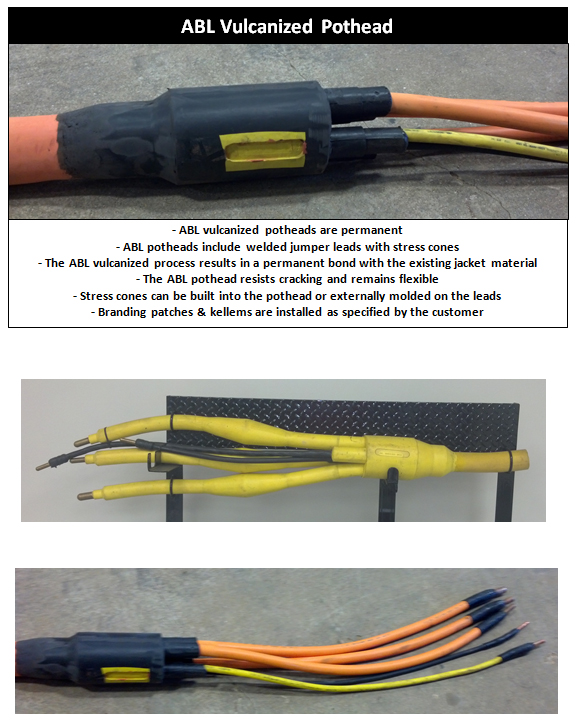 ABL designs and manufactures its own custom molds for vulcanizing repairs and terminations. Each mold is custom tailored for the specific application and customer requirements.
SERVICING MINES IN ARIZONA AND WESTERN NEW MEXICO