Pipe Products
Pipe Products - Abrasion and Impact Resistant Pipe, SLS 600 Wearpipe, Overlay Lined Pipe, Cast Lined Pipe Products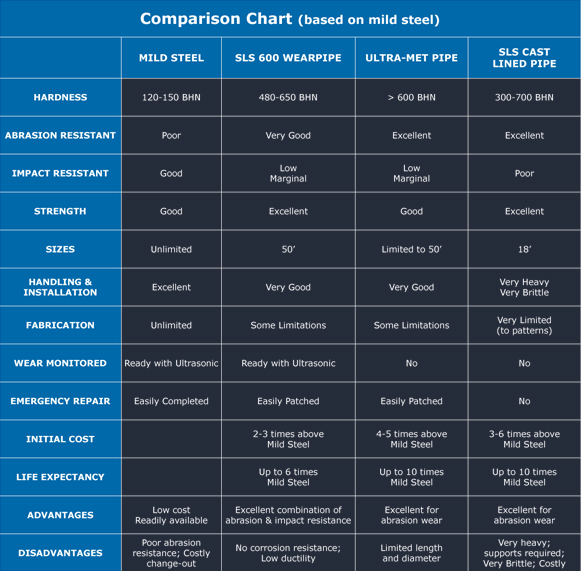 SLS600® WEARPIPE
SLS600 WEARPIPE is achieved by a unique heating/quenching process that alters the steel's microstructure through the pipe wall.
The structure of the inner surface becomes very hard, typically 600 BHN
The microstructure of the outer surface, cooling slower, remains more ductile, having a hardness of 250 BHN
In the hardening process the raw pipe, a medium carbon-low alloy steel, is heated to a fully austenitic temperature of approximately 1550º F. The inside diameter is then rapidly quenched with a treated coolant thus producing different microstructures and BHN hardness throughout the wall thickness. Induction hardening leaves a hard abrasion resistant inner surface so as to withstand flow deterioration and a ductile outer surface to accommodate handling and welding.
Ultra-Met® Chromium Carbide Overlay Pipe
Ultra-Met pipe is recommended for severe sliding abrasion applications. The result is a surface possessing an excellent combination of high resistance to erosion, severe abrasion and moderate impact strength.
The hardness of the structure of the inner surface is typically 58 – 62Rc
Max Temperature = 1250°F (676°C) Ultra-Met overlay can be formed into pipe sections, mitered pipe bends, and fabricated fittings. Ultra-Met pipe has exhibited wear resistance; up to 8 times the life of mild steel. Overlayed pipe can be used in conjunction with induction hardened pipe or Alumina Ceramic lined pipe within the total system to afford the additional abrasion resistance needed in areas of extreme turbulence and wear.
System Components
Mitered Bends, Reducers, Tees, Transitions, Wyes, and Laterals available
Ends – Straight pipe standard, Flange, Mechanical Coupling and Weld Ring options are available on request.
Pipe – Custom diameters are available on request.